WHO WE ARE
SD Consult is the management consultancy division of SD Group providing consultancy and advisory services in Lebanon and abroad in the MENA region.
We are an achievement-oriented entity that measures its success with the delivery of reliable solutions to satisfy the needs of our clients.
Our biggest asset is outlined by our insightful team of professionals whose eclectic expertise is engineered to serve the best interests of our clients.
WHAT WE DO
We lead the market through the delivery of state-of-the-art management solutions and differentiated advisory services.
Whether it's a dream you are seeking to fulfill or a predicament you want to crack, SD Group will be your trustworthy partner in achieving your aspirations.
With great confidence in our team's capacity, we focus on perceiving your need as the first pillar, then devising a compatible solution, and finally assisting with solution implementation.
WHAT WE AIM FOR
SD Consult treats excellence as an obligation in all its endeavors and further extends its commitment to its inherited motto from SD Group: "LET'S DO IT RIGHT".
SD Consult's perseverance to materialize and drive the delivery of expected results is at the core of our focus and strive to benefit our clients.
As a result, SD Consult aims to further expand the market reach of its consultancy and advisory services through the differentiation of value adding services.
OUR CORE VALUES
SD Consult's efforts revolve around a set values that elucidate the language it speaks and the character it carries.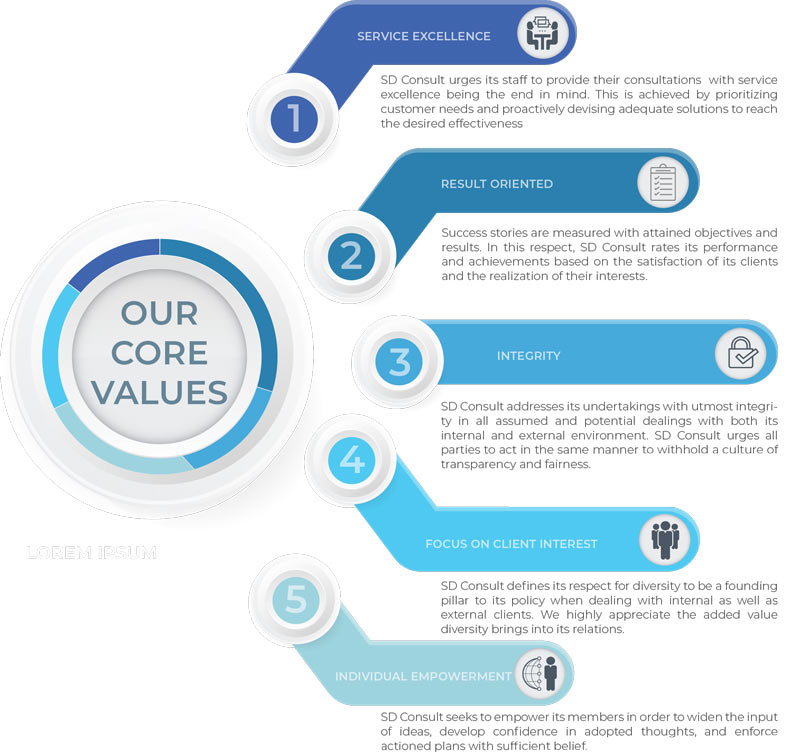 
Call us Today
+961 1 800 130
5th Floor Verdun 2000 Centre, Verdun Street, Beirut, Lebanon
You can also call us on
Tel: +44-20 8123 3251
Tel: +1-2 146 991 166