WHO WE ARE
SD PM is the engineering division of SD Group providing engineering and project management services to its clients in the Middle East and Africa Regions.
The diversified expertise of our engineers, architects, and project managers brings synergy and richness to our teamwork in serving the best interests of our clients.
WHAT WE DO
We, at SD PM, are committed to provide value adding services while operating in a safe and engaging environment for our team to grow and prosper.
SD PM specializes in providing a range of services covering: engineering design, project management, construction management, contract administration & construction claims, and real estate valuations & feasibility studies.
WHAT WE AIM FOR
SD PM assesses its achievements through the successful delivery of engineering and project management solutions to satisfy the aspirations of its clients. It inherits its motto from SD Group: "LET'S DO IT RIGHT".
SD PM's focus is centered around creating a win-win situation with its clients where they materialize the benefits of our solutions.
As a result, SD PM aims to further expand the market reach of its engineering and project management services across the globe.
OUR CORE VALUES
SD PM's efforts revolve around a set values that elucidate the language it speaks and the character it carries.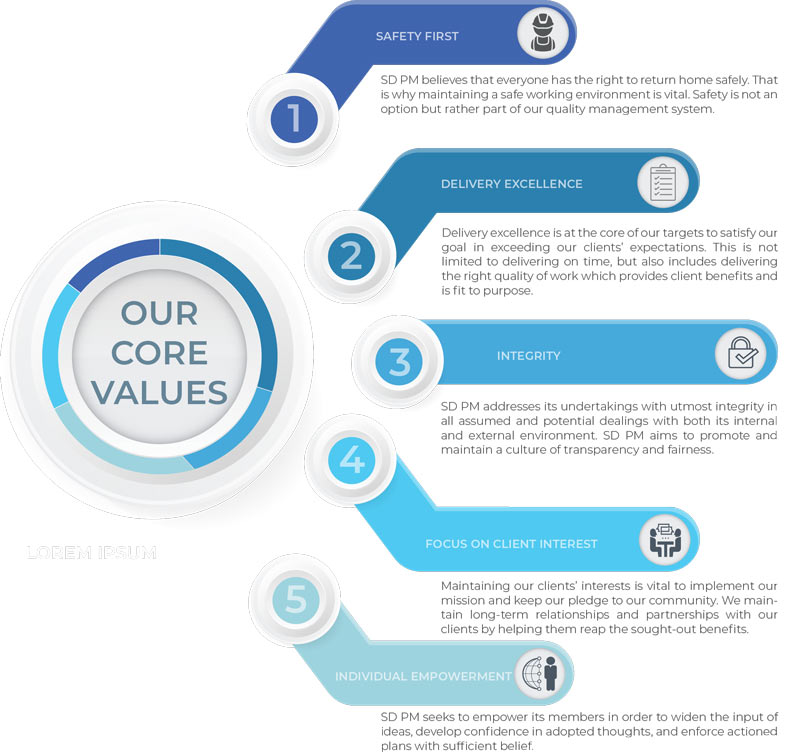 
Call us Today
+961 1 800 130
5th Floor Verdun 2000 Centre, Verdun Street, Beirut, Lebanon
You can also call us on
Tel: +44-20 8123 3251
Tel: +1-2 146 991 166